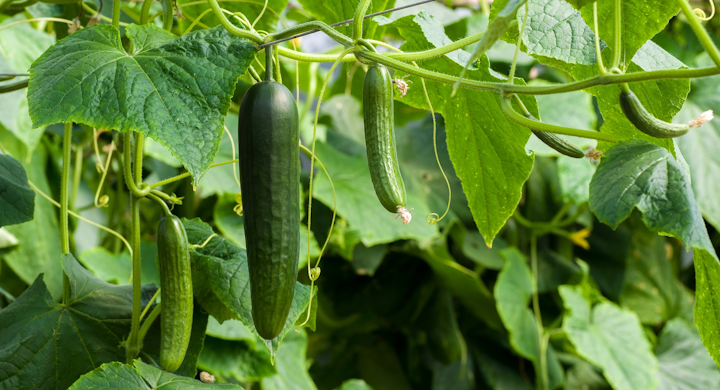 The latest horticultural news features investment at Pure Harvest, an R&D lab launch by Light Science Technologies, and new LED-based horticultural SSL projects featuring Fluence technology for cucumber and cannabis growing. (Photo credit: Image by Julia Schwab via Pixabay; used under free license for commercial or non-commercial purposes. Image is not representative of a specific project or installation.)
Abu Dhabi-based Pure Harvest Smart Farms has announced a $50M (million) investment following a $10M million growth-equity investment in January, all aimed at local production of quality produce in the United Arab Emirates (UAE). UK-based Light Science Technologies (LST) has opened the door on an in-house research & development (R&D) laboratory focused on solid-state lighting (SSL) recipes for optimum plant growth. Fluence by Osram has revealed details of a new cucumber greenhouse project in Canada and a cannabis project in Somerset, MA.
The UAE region has become increasingly concerned about securing an independent food supply for the burgeoning region with the ongoing pandemic only intensifying that goal. Pure Harvest was founded based on the local-food mission and initially received funding of nearly $30M in 2020 from Series A venture investors and the Abu Dhabi Investment Office. Subsequently, Sancta Capital led the $10M round in early 2021.
The latest $50M investment is a Sukuk financing deal led by SHUAA Capital and anchored by Franklin Templeton Investments. A Sukuk is a financial instrument regularly used in the Arabic region based on compliant bonds that repay investors with profits as opposed to interest.
"We are thrilled to have secured this innovative structured financing solution that supports our aggressive growth campaign within the GCC region," said Sky Kurtz, founder and CEO at Pure Harvest. "We are passionate about our mission to make local-for-local production of high-quality fresh produce possible anywhere, including within the harsh climate of our home the Arabian Gulf. World events like the COVID pandemic highlight the critical need for homegrown food solutions to reduce our reliance upon international supply chains. This type of financing underscores the innovation occurring within the region's venture capital markets. Congratulations to our financing partners for this first-of-its-kind solution. We thank you for believing in us."
The principals in the deal acknowledge the decidedly tough environment in terms of growing food in the regions. Yet evolving AgTech research and techniques can support growth most anywhere. Indeed, that's one of our recurring themes at our HortiCann Light + Tech events. The investors in Pure Harvest clearly see the AgTech potential.
"Sancta Capital is proud to play an active role in Pure Harvest's Sukuk and growth equity raises. The company is the region's most advanced AgTech player and has built significant brand awareness, defensible intellectual property, and a top-tier management team with a large, vested interest in its success," said Gus Chehayeb, CIO of Sancta Capital. "Pure Harvest has proven that the Gulf can serve as an excellent agricultural base, where abundant sunlight, vast land, affordable electricity and labor, and ample CO2 can be optimized to beat the landed cost of comparable quality imported fresh produce from industrial greenhouses within Europe, resulting in compelling production economics. The company is enhancing the region's food security, providing consumers fresher and more sustainable choices, creating local jobs, and driving lucrative opportunities for investors."
Pure Harvest plans to grow tomatoes, leafy greens, berries, and more in its Abu Dhabi facility. The company is also working on expansion of a major project in Kuwait that recent received €39M ($46.5M). While these investments are impressive, they significantly trail some of the major investments made in US controlled environment agriculture (CEA) projects. For example, we recently covered the App Harvest and Kentucky Fresh Harvest projects in the US with the former looking to raise half a billion dollars through a public offering.
UK AgTech lab
Moving to the new LST lab, the facility will enable the company to run 12 concurrent trials in chambers with total environmental control of each chamber including temperature, humidity, CO2 level, and more. The goal is optimization of the LED-centric light recipes. Of course, light recipes remain an elusive concept as has been covered at our HortiCann events.
"The opening of the laboratory demonstrates our full commitment to the art of plant science and will help accelerate the development of horticulture lighting and environmental technologies over the next few years and beyond as we seek out more sustainable, energy-efficient ways of farming," said Simon Deacon, CEO of LST. "Our testing facility provides a multi-faceted solution with game-changing potential to controlled environment agriculture farmers and the industry at large: not just recipe development for higher density and profit margin crops, but a pathway to industry-leading scientists in different plant species and equally importantly, an opportunity to prototype new crops before investment."
Fluence projects
Moving to some horticultural lighting projects, Fluence remains among the most active players in horticultural lighting with new projects announced on a very regular basis across both the cannabis and vegetable sectors. The Somerset project involved a 67,000-ft2 facility owned by Solar Therapeutics. And cannabis remains a cultivar with which significant market-transformation incentives are available. Fluence said Solar received $1M in total rebates from utility National Grid related to the SSL project and the fact that Solar implemented microgrid technology. The project reduced energy usage overall by 40%.
"The lack of unified sustainability practices and principles within the cannabis industry have created some major efficiency pain points that we all need to seriously consider," said Edward Dow, CEO of Solar. "By leveraging Fluence's LED technology, we were able to downsize our HVAC systems and invest the resulting savings into technologies that would allow us to achieve our long-term, sustainable facility design goals. Our partnership with Fluence has enabled us to bring this vision to reality and we can now redefine what it will take for the industry as a whole to become truly resource-efficient."
Turning to cucumbers, British Columbia-based Glenwood Valley Farms has lit its greenhouse with LEDs that deliver more photosynthetic photon flux density (PPFD) than would be possible with legacy high-pressure sodium (HPS) lights. The grower can boost SSL light levels without generating heat that the plants don't need. And the fact that the grow lights don't generate heat changes the placement and crop height elements of the facility.
Glenwood president and CEO Herb Schlacht said the SSL is delivering PPFD of 275 μmol/m2/s whereas HPS lighting had been limited to 180 μmol/m2/s. "Our greenhouse is four and a half meters tall," said Schlacht. "It would be impossible for us to reach that high of a light level with conventional HPS technology — we simply do not have an adequate buffer above our crop. Our Fluence fixtures allow us to grow in our existing greenhouse without risking excessive heat output."
---
For up-to-the-minute LED and SSL updates, why not follow us on Twitter? You'll find curated content and commentary, as well as information on industry events, webcasts, and surveys on our LinkedIn Company Page and our Facebook page.