Johnson-based Shake Extractions has received the state's first medical marijuana processing license and plans to use it to make health and beauty items, and other products for sale in Arkansas' dispensaries.
The company plans to use chemical-free processing to make marijuana products, including concentrates and rosins, infused extracts for oral and topical use, and skin care and personal care items.
Established in 2017 by four female founders and equity partners — Julie Brents, Brittany Phillips, Antigone Davoulas and Syrona Scott — Shake Brands Corp. is the parent company of Shake Extractions. The group also offers branding and product development services to cannabis companies through Shake Collaboration and makes a line of products for the CBD market called CBD & Me.
Brents has extensive experience from the cannabis market in California. Because products that include medical marijuana can't be sold across state lines, items for sale in Arkansas' dispensaries have been limited so far to what can be produced in the state, she said, so Shake Extractions products will give Arkansas customers more options.
Brents said obtaining the permit and establishing the business was time-consuming, noting that the permit application alone was more that 350 pages.
"There were a lot of complicated issues to work out," she said.
Phillips said the company's experience in the CBD market will allow Shake Extractions to shift easily into producing consumer items that contain medical marijuana. She referred to the CBD, which doesn't include THC, as the "sober cousin" of cannabis. THC is the psychoactive chemical in marijuana.
"There's just not a lot of product options available" for Arkansas dispensaries, she said.
A second medical marijuana processor application in the Little Rock area has been submitted and is under review, according to Scott Hardin, spokesman for the Arkansas Department of Finance and Administration. In January, Arkansas opened the application process for processors and transporters. These licenses don't have caps on the number the state will issue.
The production license allows a company to receive products from cultivators, dispensaries and other processors.
Arkansas approved medical marijuana use in late 2016, and its first dispensary opened in May of 2019. According to information provided by the state Department of Finance and Administration, there are 32 dispensaries in operation with six expected to open in the near future, for a total of 38 licensed dispensaries. The state has capped the available licenses for dispensaries at 40.
There are eight licensed cultivators in the state with five in operation and three moving toward production. Arkansas has capped the number of cultivator licenses at eight.
According to the Arkansas Department of Health, there are 69,287 active medical marijuana patient cards. Since the first dispensary opened in Arkansas, state residents have spent $258 million to obtain more than 39,000 pounds of medical marijuana. Since mid-2019, the state has collected about $27 million in taxes on sales of medical marijuana.
Morgan Fox, a media relations director for the National Cannabis Industry Association, a trade group, said cannabis companies across the nation face many challenges, including difficulty obtaining banking services, restrictions in inter-state commerce, and less favorable tax benefits when compared with other businesses.
According to the report "Cannabis in America for 2021 and Beyond," by New Frontier Data, revenue in the legal cannabis market in 2019 was estimated at $13.2 billion and is projected to hit $20.1 billion for 2020, of which $8.6 billion is legal medical use. The report indicates strong consumer demand that shows projected compound annual growth at 21% to reach more than $41 billion in revenue by 2025, of which $16.3 billion is tagged to legal medical use.
The report indicated revenue growth over the next five years would come because of the addition of new legal markets; sustained growth in legal markets; and increased cannabis consumption as its therapeutic use gains traction with the public and it is diversified into different forms of medical and wellness uses.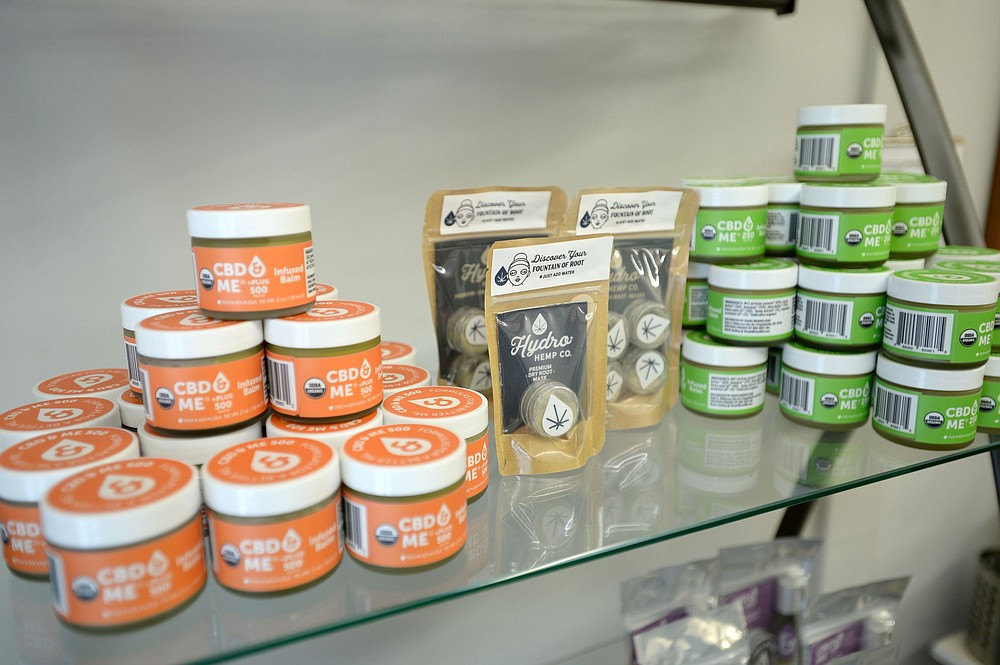 Balms infused with CBD oil sit Friday, March 12, 2021, in the production area of Shake Extractions in Johnson. The woman-owned business is the first in Arkansas to be awarded the a medical marijuana manufacturing license. Visit nwaonline.com/210321Daily/ for today's photo gallery.
(NWA Democrat-Gazette/Andy Shupe)