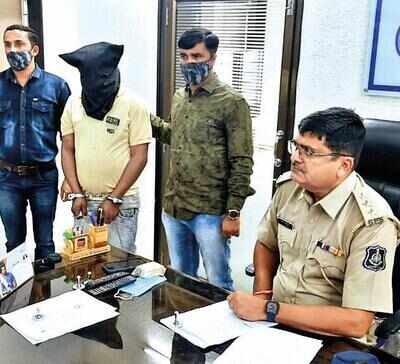 Anand police nabbed Naresh Katara (hooded) and booked five others
Vadodara/ Anand: Anand police arrested a member of the notorious chaddi baniyan dhari (CBD) gang and identified five others who were involved in a series of house break-ins and loot cases in residential societies of the town as well as adjoining education hub Vallabh Vidhyanagar.
Cops nabbed Naresh Katara and booked five others – Kalesh Katara, Maniya alias Manu Bhambhor, Mukesh Katara, Lakshman Katara and another accused, who is yet to be identified. All accused are from Dahod.
Following a spurt in such crimes, teams of local crime branch, special operation group, Anand town police, Anand rural police, Vidyanagar police and parole squad were formed to carry out patrolling in these areas.
On Monday morning, cops got suspicious over movement of an car which was making rounds on the stretch connecting Mogri new road and Elecon circle. When checked, they found iron roads, wooden pipes, batteries and clothes in the car. Naresh who was driving the car failed to give a satisfactory explanation.
He confessed that after the loots, he used to drop the gang members to nearby towns of Umreth, Dakor and Thasra. From there, they used to reach Dahod by public buses or other modes.
Naresh confessed that the gang was involved in seven housebreak-ins and loot cases on Anand-Sojitra road, Mahadev area, Vallabh Vidyanagar and other places.
The gang members used to strip to their briefs and vests, smear oil all over their bodies and target closed houses and bungalows.
"All the accused who have been identified will be apprehended soon," said Anand district superintendent of police Ajit Rajian.
FacebookTwitterLinkedinEMail