Following the news that CanBreed, a genetics-based breeding company for cannabis, opened up its plant just outside of Israel's Ra'anana, CTech was eager for a visit. The company has recently launched what it's claiming to be the largest plant gene-editing laboratory in the country and one of the largest in the world, designed to grow and test cannabis and other items for eventual mass-production.
The factory is roughly 1,200 square meters and contains a molecular biology room, a tissue culture lab, and a growing safe – three rooms that experiment with CRISPR – the Nobel prize-winning technology that can help them produce stable cannabis seeds for hemp growers. To say it is impressive is an understatement.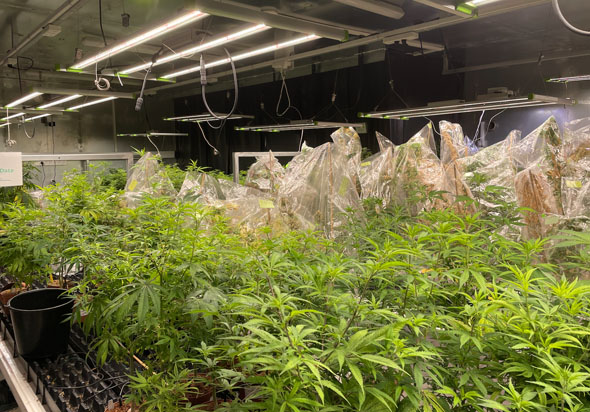 The smell of cannabis is strong in the safe room. Photo: James Spiro/CTech
There are thousands – almost millions – of seeds and plants that are being grown for testing purposes. The company, which last year obtained a licensing agreement for foundational CRISPR patents, can apply gene-editing tools to provide better raw materials for medical products. This means that its team of 24 people – 16 of whom are molecular biologists – are hard at work creating stabilized plant seeds that produce constant and reliable results once grown.

As we enter the factory we see a large open space with a volleyball court set up. It's to help the team relax after working on inserting the CRISPR into the starting materials. "Never get high on your own supply," explained founder and CEO Ido Margalit when asked why they don't relax using more 'conventional' items readily available.

The growing safe, which is behind lock and key to match legal requirements, is where they test out more than 20 different varieties of cannabis. Here, there are hundreds of plants that are grown in stable and constant conditions. As they are grown and monitored, the company will be able to better help its customers, the hemp growers, understand how their seeds will flourish.

"All over the world, there are a lot of cannabis growers where all of their operational settings are indoors," explained Margalit. "One of the biggest commercial markets in the world is Canada, it's the only G8 country where it's fully legalized. Canada is not good for outdoor agriculture, so most of its growing operations are indoors."

According to Margalit, most cannabis operations in Israel are outdoors – and so that is where we go next. CTech is guided to a greenhouse that rests within a gated security fence with a variety of measures including cameras, barbed wire, and more. We walk towards a security officer who resembles a prison guard, taking our ID and making sure our faces are seen on camera. It's not just CanBreed that takes its outdoor agriculture seriously, but it's also the state of Israel: the security is a government-mandated measure, paid for by CanBreed, to make sure their plants remain safe all year round.
Inside the greenhouse are roughly 24 varieties of cannabis, all different lengths, colors, shapes, and scents. Here, we see the effect that outdoor agriculture can have on the plant. Whereas the indoor safe lab can produce stable results, these vary in quality, and the ones that are successful in the environment grow to be much bigger and better than the ones indoors. By testing them for a year, Margalit and the team will soon discover which seed is best grown at what point in the year.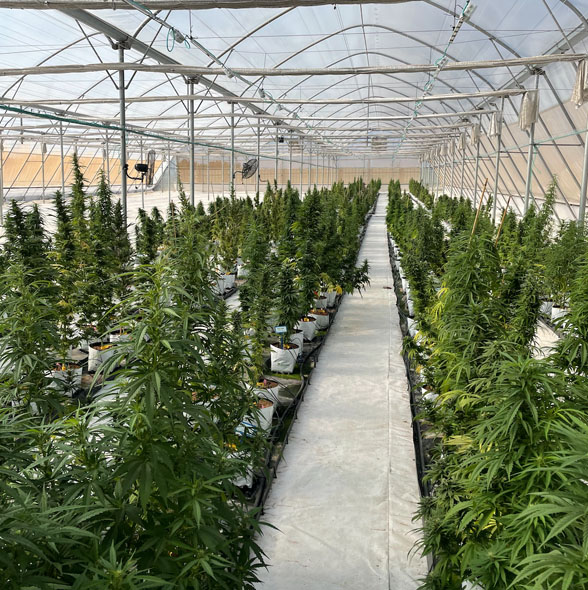 Inside the greenhouse. Photo: James Spiro/CTech
CanBreed was founded in 2017 and has only recently been moving from R&D to production. In 2020, it purchased a 3.5 acres farm in San Diego, California, where it expects to produce more than 12 million seeds each year. With the testing currently taking place in Israel, Margalit expects the California farm to be operational by the end of this year or by early 2022.

In 2020, four U.S states legalized the use of hemp, meaning that eight states have now legalized cannabis thus expanding the market to 93 million Americans. While CanBreed can only sell cannabis seeds internally within California, hemp can be commercialized nationally and internationally which means it can penetrate the market which currently produces 2 billion hemp plants over 500,000 acres.

CanBreed's new farm signals a growing revolution. Once Israel's law changes, the company will be able to export its edited seeds to Europe and the U.S. For now, the farm is using CRISPR technology to silence genes and produce seeds that have perfected the stabilization, uniformity, and standardization of cannabis seeds for growers.

"(CRISPR) is the most groundbreaking and most important finding in life science in the 21st century," Margalit confirmed at the end of the visit. "We're among the pioneers of applying it in plants and specifically cannabis."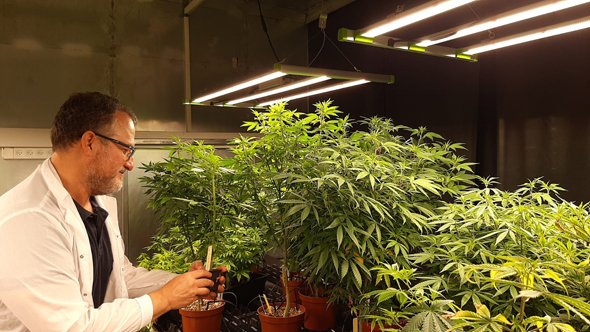 CEO Ido Margalit. Photo: CanBreed