A debate over the federal government's support for childcare has spilled over into a heated argument during a meeting of Coalition MPs, where some were accused of mansplaining and trying to pit working parents against stay-at-home mothers.
Nationals George Christensen and Matt Canavan and Liberal senator Gerard Rennick spoke out against legislation to increase childcare subsidies for families with more than one young child in care, instead wanting the government to provide more support for stay-at-home parents, multiple Coalition sources who were at the meeting said.
The policy in question is Education Minister Alan Tudge's proposal to increase the childcare subsidy for second and subsequent children when a family has two or more children aged under five in care. The changes would also lift the annual cap on how much high-income families could receive.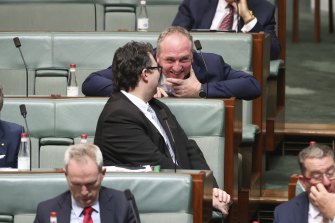 Mr Christensen's contribution to Tuesday's debate was described by a colleague as particularly provocative, suggesting parents were outsourcing the care of their children to big corporations.
This prompted Nationals senator Perin Davey to caution her colleagues to be careful with their language and make sure they respected the choices of all parents, whether that was to stay at home or return to work.
Liberal MP Katie Allen, a paediatrician before entering Parliament, backed her up, telling the meeting they shouldn't judge parents but rather encourage families to make the choices that were right for them.
Liberal senator Hollie Hughes made a "dramatic entrance" into the debate, in what was described by some as telling off the men in the room for "mansplaining" how mothers should raise their children.
"Not all of us are capable of or want to sit at home with our three-month-old watching Bluey," she told the meeting. Read the full story here.