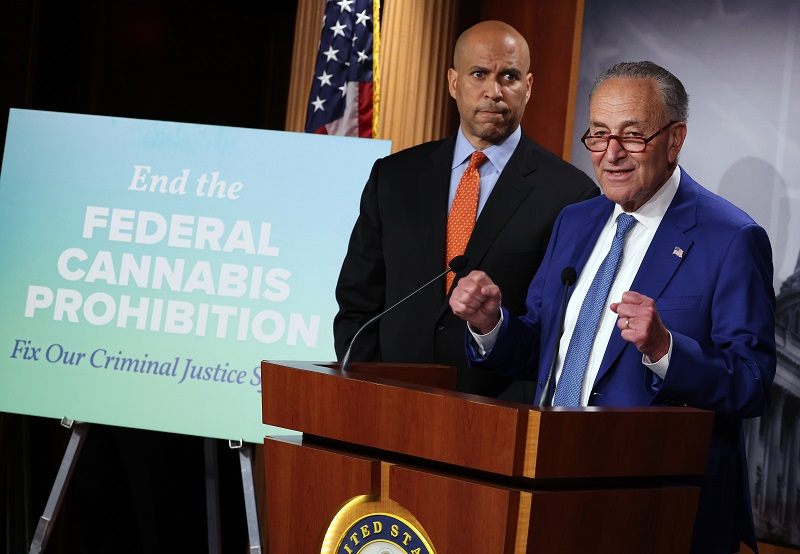 US stock exchanges have long shunned the nation's homegrown cannabis industry, a dynamic that has sent companies north in search of pot-friendly capital markets. But if new legislation in Congress is successful, that could soon change.
Banks and other financial institutions—including stock exchanges—avoid doing business with US marijuana companies in large part because of federal anti-money laundering laws that criminalize financial transactions tied to illegal activity.
But a legislative overhaul may help pot companies to go public in the US, either by giving banks leeway or changing the drug's legal status. That could set up a crucial exit option for privately backed cannabis companies, ending the need for workarounds like listing shares in Canada or banking with state-chartered credit unions.
A bill introduced by Senate Majority Leader Chuck Schumer would remove cannabis from the Controlled Substances Act, a process known as descheduling. In doing so, lawmakers would open the door to a host of financial services long denied to the industry.
Schumer's bill would create a framework to regulate and tax marijuana, and give small businesses access to government loans. The legislation also takes aim at some of the social costs of the war on drugs, including a provision to expunge non-violent marijuana-related convictions.
Cannabis investors and entrepreneurs have hailed the effort.
"This is the most far-reaching, proactive proposal we've ever seen," said David Mack, senior vice president of policy and public affairs at marijuana-delivery startup Eaze.
Like any legislative effort, the bill's road ahead is uncertain, and its ultimate impact is hard to predict. But the implications for US IPOs are not lost on investors.
"The one space I think it would absolutely impact, however, would be public markets where cannabis companies could now list domestically in a much simpler way," Catharine Dockery, founder of Vice Ventures, wrote in an email.
Even without descheduling, other legislative efforts currently underway could open up US exchanges. The SAFE Banking Act, which passed a House vote in April, would allow banks to do business with cannabis companies without running afoul of anti-money laundering laws.
These federal efforts follow a strong outcome for state-level marijuana legalization in the 2020 elections. Recreational cannabis is now legal in 18 states and the District of Columbia, according to the National Council on State Legislatures. Around 68% of Americans are in favor of legalizing marijuana, a 2020 Gallup poll found.
Historically, exits for privately backed cannabis companies have been difficult to come by. But IPOs picked up in recent years, thanks in large part to Canadian stock exchanges, which have proved to be popular destinations for US companies that operate across state lines.
"Canadian exchanges have been getting most of the action so far," said Karan Wadhera, managing director at Casa Verde Capital, a cannabis-focused VC firm co-founded by Snoop Dogg. "All the largest US cannabis businesses are listed there."
US stock markets are reluctant for legal reasons, not moral ones. Cannabis companies like Tilray and Cronos that operate in Canada, where the drug is fully legal, have been able to go public in the US.
Descheduling marijuana could unleash other sources of investment and liquidity from institutional investors, private equity and Canadian companies, according to Kristoffer Inton, a director of equity research at Morningstar.
"If the law changed a bit, especially under the form that Schumer proposed, there would be a race to acquire footprints in the US," Inton said. Already, institutional investors have been keenly studying the industry for the day when they can invest more freely, he added.
There are signs of pot players jockeying for position in anticipation of policy changes. Cronos purchased a $110.4 million option to acquire 10.5% of US-based PharmaCann in June, but the deal is contingent on the status of US legalization.
A wider variety of exit opportunities—whether through IPOs or M&A—would likely create a positive feedback loop for cannabis companies, giving private investors more confidence that they can find buyers down the line.
However, even federal legalization wouldn't remove all barriers for cannabis companies. Dockery said many investment firms are bound by vice clauses in their charters or LP agreements, which prevent them from backing marijuana companies regardless of the drug's legal status.