Is There a Cannabis Market Mini Boom Going On Right Now?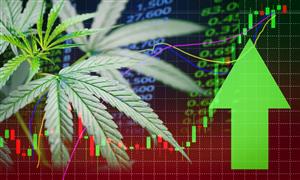 Shares of Nanaimo BC-based cannabis licensed producer (LP) Tilray Inc. surged the most in more than five months, earlier this week, as investors rewarded the cannabis company for profiting even amid challenges of COVID-19 restrictions. So what does this mean for the cannabis market in general? Stockhouse Editorial's Dave Jackson explains.
Weekly Update – Top Cannabis News Stories
1 | Top Story: Cybin Inc. receives final approval to commence trading on the NYSE American LLC stock exchange.

2 | Lexaria Bioscience Corp. receives US$3.8 million from warrant exercises
3 | Emerald Health Therapeutics, Inc. retains listing agent to sell cannabis cultivation facility.
4 | Retail debut helps drive Cannara Biotech Inc. to strong first quarterly profit
5 | Clever Leaves Holdings Inc. and biopharma research company to partner for landmark cannabis research study.
Top Cannabis Stocks – July 22 to July 28, 2021

1. TLRY | 30,220 views | Tilray Inc.

2. T.HEXO | 25,734 views |Hexo Corp.

3. T.WEED | 17,782 views | Canopy Growth Inc.

4. C.TNY | 8,249 views | Tinley Beverage Co Inc.

5. C.TBP | 7,827 views | Tetra Bio-Pharma Inc.

6. C.CBDT | 7,609 views | Empower Clinics Inc.
FULL DISCLOSURE: Cybin Inc., Lexaria Bioscience Corp., Emerald Health Therapeutics, Inc., Cannara Biotech Inc.,and Avicanna Inc.are clients of of Stockhouse Publishing.

New to investing in Cannabis? Check out Stockhouse tips on How to Invest in Cannabis Stocks and some of our Top Cannabis Stocks.

For more of the latest info on Cannabis, check out the Cannabis Trending News hub on Stockhouse.